Semana Latina: A Week-Long Celebration
Semana Latina (Latin Week) is a week-long celebration of Latino culture in Chattanooga.
From April 28 to May 5, several organizations from across the region are coming together to offer special programming and activities to celebrate Latin American culture.
Special thank you to Coca-Cola UNITED Bottling Company for their contribution of product and additional printing during several of these activities.
2018 Tentative Schedule of Activities
Friday April 27
Organization: Lula Lake Land Trust

Event: Latino Day at Lula Lake
Time: 10:00 a.m. - 2:00 p.m.
Location: Lula Land Lake Trust, 5000 Lula Lake Rd.
Enjoy a walk along the beatuiful trails in one of Chattanooga's incredible landscapes. Inclues incredible views of the Tennessee Valley, accessed by hiking trails and series of waterfalls and natural pools. Bring your mountain bikes and pets (bring a leash). The property is closed for the general public on this date, but they're opening it for our Latino community as a special outting.
Saturday April 28
Organization: Creative Discovery Museum
Event: Día de los Niños
Time: 5:30-7:30pm
Location: Creative Discovery Museum
Latino families can come explore the Creative Discovery Museum FOR FREE and engage in special activities. Participants will enter for a chance to win some fabulous door prizes. Each child will also receive a goodie bag of great takeaway items. This event is cosponsored by the Creative Discovery Museum, Carneceria Loa, La Paz Chattanooga, the J.A. Henry YMCA, Coca-Cola UNITED Bottling, and Gordos Bakery.
Sunday April 29
Organization: Chattanooga Lookouts

Event: Latino Day at the Ballpark
Time: Gates open at 12:30, Game begins at 2:15 p.m.
Location: AT&T Field
La Paz Chattanooga will be the Lookout's Community Partner for the game that night. As part of that, people can purchase discount tickets at the La Paz office ($5/person - general admission). La Paz will also have a presence at the game where people can sign up to get more information on discounted tickets to Sangria on the Bluff. "Los Lookouts" will also be wearing special uniforms to celebrat and recognize our Latino Chattanoogans. Those jerseys will be auctioned after the game with all proceeds benefitting La Paz Chattanooga.
Monday April 30
Organization: Tennessee Aquarium

Event: Compañía Luncheon
Time: 12:00 p.m.
Location: Tennessee Aquarium
Details:
April 28 – May 4 - Join us for Semana Latina to discover cool creatures and learn interesting facts to share. Spot Leaping Lemurs, release butterflies, meet a tweeting electric eel and more! Enjoy discounted admission from April 28 through May 4 with the use of special coupons that are available at the La Paz Chattanooga office.
Monday, April 30 – Compañía Luncheon
Members of Co. and community partners are welcome to register to attend a special Compañía network luncheon in the Tennessee Aquarium's River Journey building (in the Lupton room in the lower lobby).
Friday May 4
Organization: Chattanooga Zoo
Event: Latino Family Festival & Cinco de Mayo Day at the Chattanooga Zoo
Time: 9am-4pm
Location: 301 N Holtzclaw Ave
Come celebrate Cinco de Mayo and the Latino culture with us during our Latino Family Festival May 5-7. Bring your friends and family to enjoy native music, animal enrichment, meet & greet with the animals and more! Dora the Explore will also be here for all the days.
Saturday May 5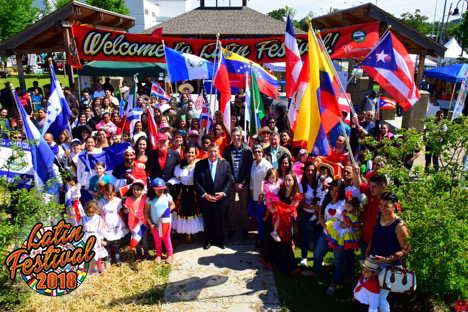 Organization: Chattanooga State Community College
Event: Latin Festival
Time: 10am-2pm
Location: Highland Park Commons, 1000 Union Ave.
Latin Festival and Latino-American Soccer Cup 2018 is designed as a free community celebration with event proceeds to Chattanooga State Foundation's Latino Scholarship Fund and the Chattanooga State's Bridges to Success programs offered in Highland Park since 2001.
Latin Festival and Latino-American Soccer Cup 2018 has the spirit of a Caribbean carnival with fun for all ages and backgrounds. The Festival features traditional folkloric dance and musical performances by local artists and regional performers, a parade of nations, authentic food court, pavilion of faith, Latino-American soccer tournament, visual artists' showcase, a Hispanic Heritage Fashion Show and plenty of family fun!
Once again a unique part of Latin Festival is our Passport to Latin-American Challenge which is a fun cultural learning experience available for up to 500 participants. It will "challenge" people to connect with 17 educational booths and activities to learn about different Latin countries represented in Chattanooga. Goodie Bags with sponsored provided items for adults and children will be available for participants completing the challenge.
La Paz Chattanooga will be cohosting both a Power of Attorney session (in collaboration with the Young Lawyers Division of the Chattanooga Bar Association) and a Passport Fair (in collaboration with the Downtown Chattanooga Library) during Latin Festival. We need a lot of volunteers to assist us with these activities.